Call of Duty: Mobile
introduces different featured events in each season, and the latest one is the Search for Stansfield. In this event, you will be helping Templar and Ghost to take revenge on Stansfield and the elusive Dark Covenant.
You will have to collect Search Clues to progress in the event and earn rewards based on the number of Search Clues gathered. Here is how you can do it.
Search for Stansfield event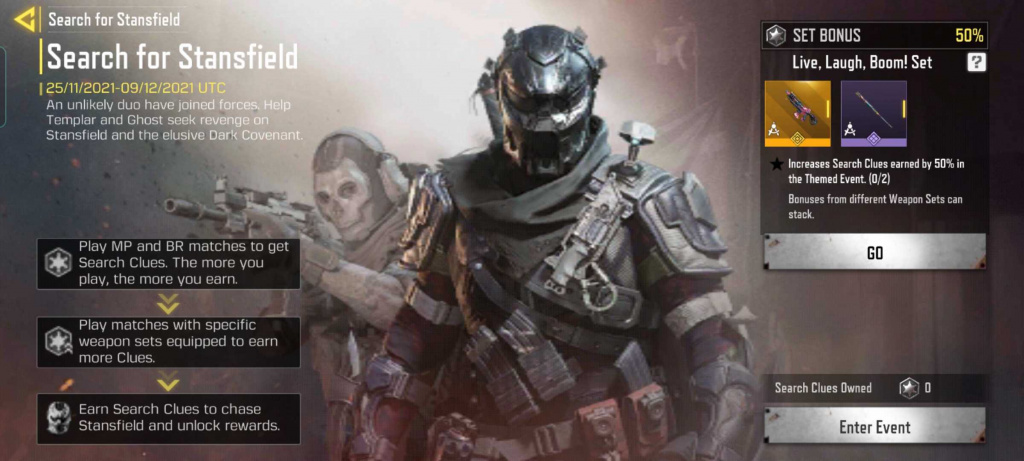 You can earn Search Clues to chase Stansfield by playing multiplayer and battle royale matches. The more matches you play, the more Search Clues you will earn.
In addition to this, if you play by equipping Peacekeeper MK2 - Crustpunker and Baseball Bat - Punk Power, you will get 50 percent extra Search Clues in the event.
You can unlock these weapons by participating in the Live, Laugh, Boom! draw along with a bunch of other draw rewards. You will also be unlocking different cities and their stories while proceeding in the event.
Search for Stansfield event rewards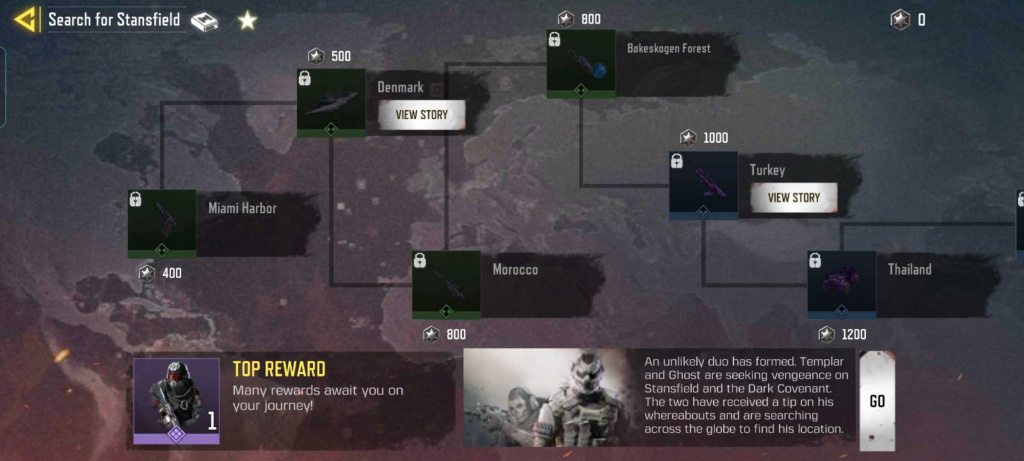 Here is the list of cities you will be unlocking, along with the rewards you will be getting in the event by gathering Search Clues.
400 Search Clues (Miami Harbor): MW11 - Shaded Weaponry
500 Search Clues (Denmark): Boat - Shaded Weaponry
800 Search Clues (Morocco): XPR-50 - Shaded Weaponry
800 Search Clues (Bokeskigen Forest): Ninja - Shaded Weaponry
1000 Search Clues (Turkey): Type 25 - Covenant
1200 Search Clues (Thailand): ORV -- Covenant
1500 Search Clues (Tabernas Desert): ATV - Covenant
1800 Search Clues (Barents Sea): M21 EBR - Covenant
2000 Search Clues (Kazakhstan): SP-R 208 - Covenant
3000 Search Clues (Sweden): MX9 - Covenant
3000 Search Clues (Moscow): War Birds
3000 Search Clues (Siberia): Pawn Takes Pawn
4000 Search Clues (Pacific Ocean): Man-)-War - Covenant Standard
30000 Search Clues (Anchorage): Mil-Sim - Dark Covenant Brute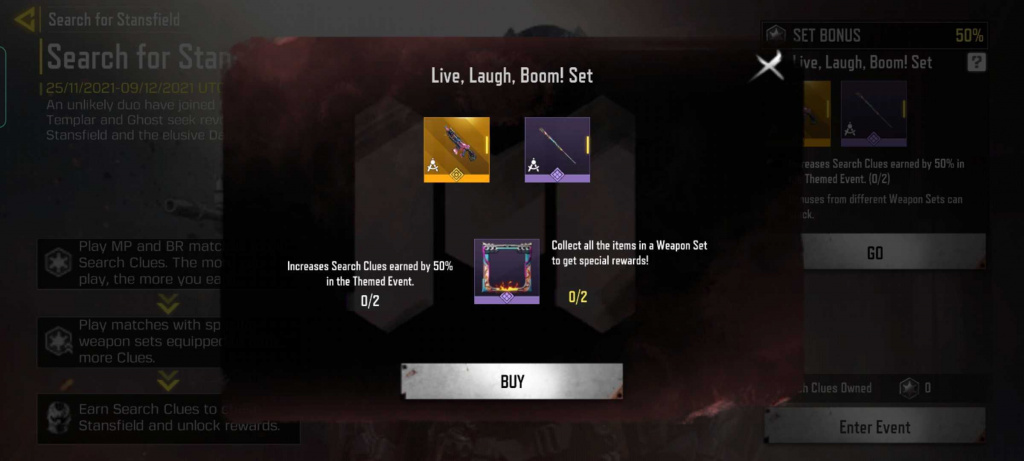 In addition to this, if you collect all the items in the Live, Laugh, Boom! set, you will get Gas Guzzled as an exclusive reward.
Don't forget to check out our dedicated COD Mobile section, featuring all the news, guides, weapon tier lists, loadouts and more.
Featured image courtesy of Activision.