Publications are rounding out their year by honouring some of the best gaming offerings in their annual "Game of the Year" list. IGN had released their top picks of the best games of 2021 and we were surprised that they picked Playground Games'
Forza Horizon 5
as the Game of the Year.
The game itself is already in a celebrating mood with the launch of the Autumn/Storm Season which introduced new festive events, challenges, rewards and more for players to spread Christmas cheer around the Horizon Festival. But to celebrate, the developer had dropped some gifts in celebration of this honour that players can collect in-game.
Forza Horizon 5 honoured with IGN's Game of the Year award
This week, IGN revealed their list of the best games of 2021 which featured Deathloop, Halo Infinite, Hitman 3 and Resident Evil Village. What surprised many was the top honour was awarded to Forza Horizon 5, who had recently picked up a few awards at The Game Awards this month.
GOTY!! 🎉🎉🎉@IGN has named #ForzaHorizon5 as their Game of the Year and we are absolutely floored. Thank you to @IGN, thank you to @Xbox and thank you to the best community in games. pic.twitter.com/fkrHuCFHJT

— Forza Horizon (@ForzaHorizon) December 17, 2021
The developer, Playground Games, were surprised upon receiving news of this honour but were delighted nonetheless. The racing game was also awarded "Best Console Exclusive", "Best Racing Game" and "Noteworthy Achievement in Accessibility" from the publication.
Playground Games' Creative Director Mike Brown broke the news on this recent achievement to members of the development team. On receiving this top prize, "Thank you so much, this absolutely means the world to us. Congratulations to everyone on the Playground [Games] team. This team has poured so much into this game over the last three years", Brown commented.
How to get the Forza GOTY Reward?
A Reddit user took to the Forza subreddit to reveal that the developer had dropped an in-game reward to celebrate winning IGN's Game of the Year 2021. All players will receive five free Super Wheelspins to thank the dedicated community for their continuous support.
To receive this special Forza Reward, players must log into the game where they will be alerted to a new message which can be found under the "News" tab. The message explains that the game won the Game of the Year award from IGN before thanking the community.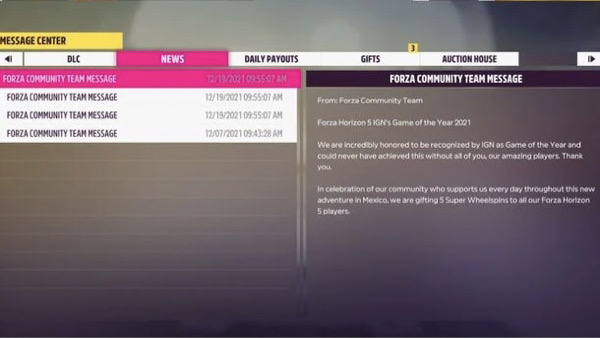 The reward can be collected from the "Gifts" menu, in which players have the option to either use their Super Wheelspins immediately or save them for later. The impromptu reward is quite exciting for players and the gift itself, the Super Wheelpsins are rarely gifted to players.
With that in mind, it's very encouraging to see Playground Games drop a Forza Reward to celebrate this achievement even if they didn't have to. But we congratulate the team at Playground Games on this massive honour and for delivering quite an exceptional game this year.
Don't forget to check out our dedicated Forza section for the latest news, updates, guides, leaks and more.
Featured image courtesy of Playground Games / Xbox Game Studios.