We are halfway through the Genshin Impact 2.3 update with
Phase II
set to begin soon, but we are already looking further ahead than that, forever curious about what new characters or areas will come to miHoYo's game. Recently with the release of
Arataki Itto's
character teaser video, speculation about yet another new character has begun.
That character is Kamisato Ayato, and while the leaks regarding him started coming months ago, there was no substantial evidence regarding his existence. However, now with it being almost certain that he will be arriving in the game, here is what we know about Arataki Itto's brother.
Kamisato Ayato release date 
As per the leaks, Kamisato Ayato will be released in Genshin Impact's 2.6 update, which is a few months away and will likely arrive in April 2022. You will be able to get him by wishing for him on his banner.
He was spotted at the end of Arataki Itto's character teaser video, watching his show, and as you can see, he looks like Childe from the back.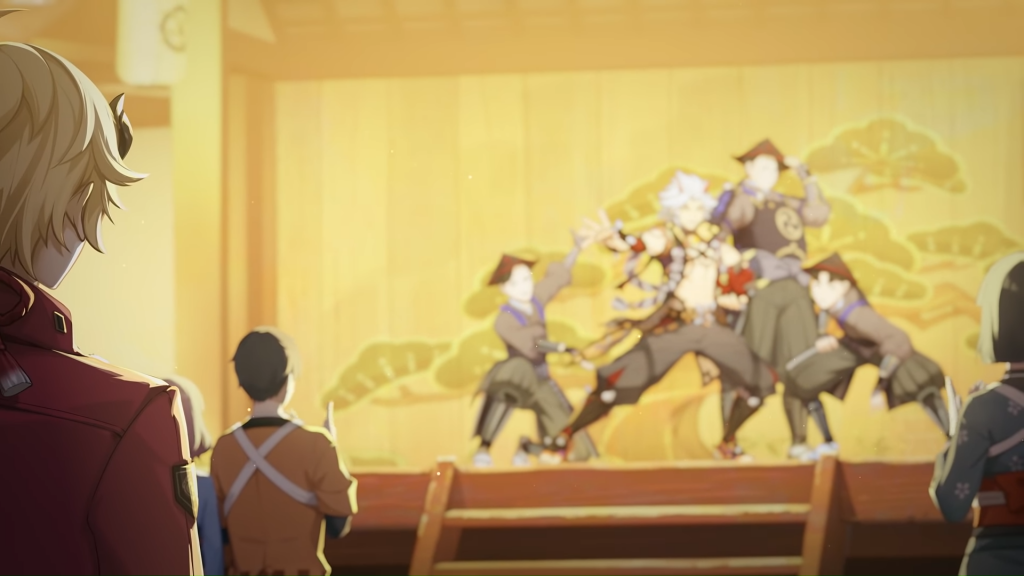 Kamisato Ayato weapon and skills
Kamisato Ayato is Ayaka's older brother and the head of the famous Kamisato clan. "Kamisato... One of the most distinguished clans in all of Inazuma. Despite Ayato's trickery in regard to the Tri-Commission's affairs, he is nevertheless a loyal subject. His past misdeeds shall be excused," Raiden Shogun can be heard saying in reference to Ayato.
As per the leaks, he will be a Hydro character who can use both a sword and polearm, which means he will have good synergy with his sister.
As per the dataminer Dimbreath, he will reduce team members' elemental skills cooldown. There is not much information available regarding him at the moment, but we will update the guide once we get our hands on it.
Don't forget to check our dedicated Genshin Impact section, where you can find all the news, guides, and previews you desire, as well as our Genshin Impact Twitter account.
Featured image courtesy of miHoYo.