Halo Infinite's multiplayer launch has been an absolute rollercoaster ride. Developer 343 Industries has been attentive towards fan feedback, making subtle yet necessary changes to the game's underwhelming
progression system
.
With the first of the three parts of the Fracture: Tenrai event now over, players can get back to progressing the battle pass. Thankfully, the new set of battle pass changes allows players to earn far more XP per match compared to its previously futile reward of 50 XP. Furthermore, Xbox Game Pass Ultimate users can claim an extra set of exclusive rewards starting 8th December.
How to get the 'Pass Tense' MA40 AR coating in Halo Infinite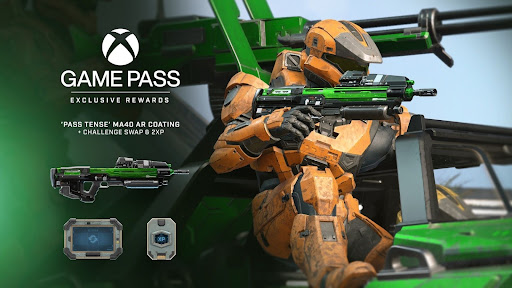 The 'Pass Tense' MA40 AR bundle will be available for all Game Pass Ultimate members on 8th December. The bundle consists of three items (one cosmetic and two consumables) which are: 
Pass Tense MA40 AR coating x 1
2 XP boosts x 4
Challenge swaps x 4
The pass tense MA40 AR coating is exclusive to Game Pass Ultimate members and can't be earned through the battle pass or bought separately. The XP boosts will come in handy for some quick battle pass progression, especially given its current state. Challenge swaps are even more essential, considering how some challenges can be hugely inconvenient with the current playlist rotations.
All-in-all, these free offerings should especially delight the players frustrated with the current state of microtransactions in Halo Infinite.
The 8th December marks the launch of Halo Infinite's highly anticipated campaign. After last year's underwhelming reveal, 343 seems to have turned the tides on the game's campaign offering, with it looking far more polished and ready in the latest previews. As with every Xbox first-party release, Halo Infinite's campaign will be available for free to Game Pass members at launch. 
Don't forget to check out our dedicated Halo section for the latest news, updates, esports coverage, guides, leaks and more.
Featured image courtesy of 343 Industries.