The latest batch of Mobile Legends: Adventure redeem codes has arrived, waiting for players to use them and collect their free rewards, including diamonds, coins, and much more!
Mobile Legends: Adventure is an epic Idle RPG where all the MLBB heroes reunite. Players will have to put together a squad of five heroes to defeat the monsters. These heroes, along with a ton of other in-game items like emotes, draw items, need to be purchased by spending diamonds, coins etc. 
These in-game currencies can be bought by spending real money, which is not possible for all the players. In that case, you can get your hands on some free stuff by redeeming the Mobile Legends: Adventure codes released by Moonton from time to time. So, we have listed all the working redeem codes available at the moment that you can use to get free diamonds, coins and much more. 
Mobile Legends: Adventure latest codes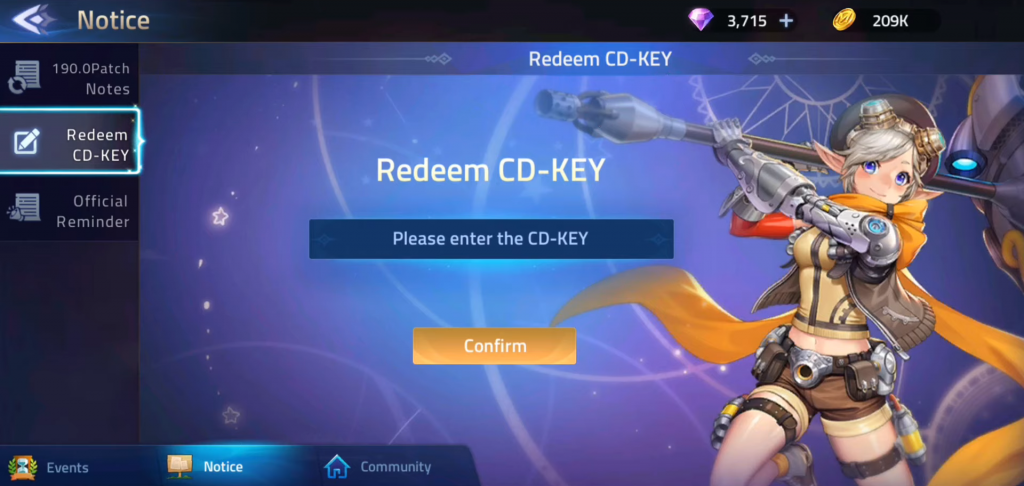 Mobile Legends: Adventure codes are released mostly via the game's social media handles. Also, make sure to redeem these codes as early as possible since most of them are time-limited.
Working codes
MLA9453 
TBBVUA
KB7LF7
DKMEQF2225W
5TS2JD22262
BFU77C22263
CGUNBA22264
DPW4TB
SZYP34
MBZHQ5
HJPHU222277
03PSBH
CARNIVAL
6OQGJ7
8TKYE8
TNEEY822275
CUNZJZ22274
Expired codes
MLAXMPL
MLAISLIT
MLAISFIRE
888888
5WYYQZ
XSGXZJ 
HOTMLA 
U6PTKZ2224V
R3Z428  
00NATAN00 
AKAKURO77 
MLAFBFAN 
VMNFZA22248 
MLAIG500K 
MLAXMPL
888888
MLA1YEAR
MLAFBGO
MLAISFIRE
MLAISLIT
MLMLA0908
AU5ZWR2223J
HV4K4V2223K
MLAXMAS
HVXFZM2223Q
MLADISCORD
MLAREDDIT
8G763N22239
SUKNBJ2223M
MLAHPBD1
T6J3GG2223R
EV4UTW2223U
HVXFZM2223Q
47BWK42223S
MLAIG500K
How to redeem Mobile Legends: Adventure codes
Open Mobile Legends: Adventure on your device and log in with your account.
Go to the Events section from the left side of the screen.
Tap on the Notice icon at the bottom of the screen and then press the Redeem CD-Key option. 
Paste your code by copying from the list above and hit the Confirm button to claim your rewards.
And while you are here, check out redeem codes for other popular games, including PUBG Mobile, COD Mobile, and Free Fire!