Developer Krafton recently unleashed the first major update for PUBG New State, filled to the brim with new content for players to enjoy. Content includes a new battle royale game mode "Extreme" on Troi 2051, several new features, bug fixes and more. Arguably the most exciting new addition to PUBG New State is the world's fastest accelerating production car.
This is all thanks to a partnership between Krafton and Bugatti Rimac, bringing the supercar to life on Troi 2051 in a spectacular fashion. Alongside the vehicle, a brand-new Rimac Crate has also been released, with branded items, including five different colours. 
Instead of spending all your credits, you can win 20 Rimac Crate Tickets. Here's what you need to know about the competition.
PUBG New State Rimac Crate Tickets - How to win
Luck will need to be on your side if you want to win 20 Rimac Crate Tickets to use in PUBG New State.
First up, this is a social media competition. Players will need to find one of the many Rimac Nevera vehicles in PUBG New State's Troi 2051 map, and take a screenshot with the supercar.
Follow the steps below to enter this competition:
Take a screenshot with a Rimac Nevera vehicle in Troi. (Screenshots from the starting island will not be accepted.)
Upload it to your own social media with the hashtag #NewStatexRimacNevera.
Submit event participation information via Google Forms. 
The competition runs from 16th January at 09:00 to 20th January at 23:59 UTC. Winners will be announced on 26th January.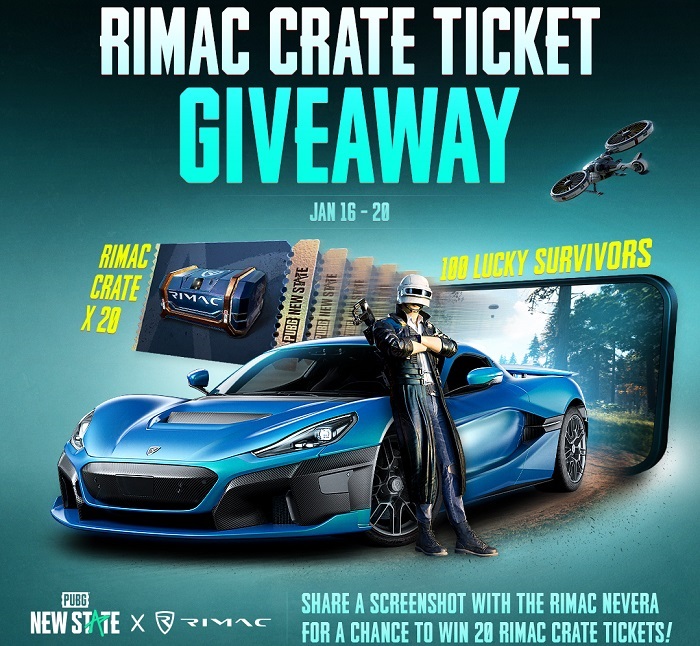 Only 100 survivors will win 20 Rimac Crate Tickets each. These winners will be selected randomly. Importantly, your player nickname needs to show in the screenshot, and don't go stealing other people's screenshots...
The rewards will be sent to the winner's in-game mailbox on 26th January at 00:00 UTC. Check out the collaboration trailer below.
Please note that we are not involved in any part of this competition or the selection process.
Good luck to everyone who plans to enter. Maybe, just maybe, you will be one of the lucky ones who win 20 Rimac Crate Tickets to use in PUBG New State.
Featured image courtesy of Krafton.