Almost seven years have passed since the release of Rainbow Six Siege, and now Rainbow Six fans are finally getting a brand new game - Rainbow Six Extraction.
Rainbow Six Extraction is not an entirely new entry into the series, rather it is a spin-off of Rainbow Six Siege and it uses many established gameplay mechanics we've seen in R6 Siege.
But unlike Siege, which has become a highly-popular competitive esports title, Rainbow Six Extraction focuses on a different kind of gameplay.
Here's everything you need to know about Rainbow Six Extraction.
GINX Twitch stream
We will be streaming our first dive into Rainbow Six Extraction via our Twitch channel on Friday, 21st January from 14:00 to 16:00 UTC, so don't miss out!
We've embedded our Twitch channel below for your convenience.
What is Rainbow Six Extraction? Gameplay and features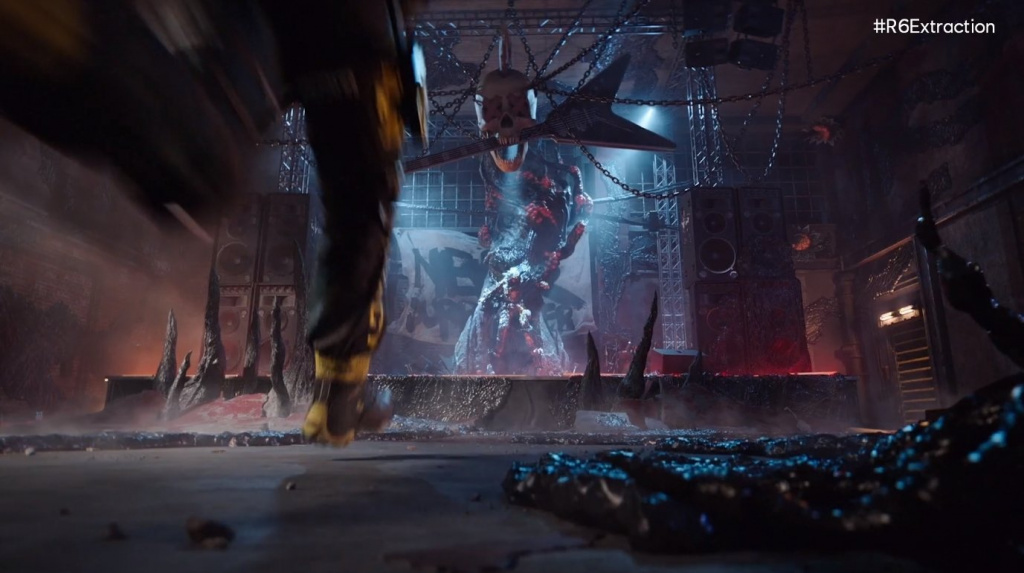 Rainbow Six Extraction is a tactical co-op PvE shooter for up to three players. Unlike other co-op shooters that focus on frenetic action (like Back 4 Blood and Aliens: Fireteam Elite), Extraction rewards tactical and stealthy approaches, in the true fashion of the franchise.
You will play co-op PvE missions where players will join forces to battle their way through hordes of alien monsters in order to complete missions and level up their characters.
Speaking of characters, if you are a fan of Rainbow Six Siege, you will find many familiar faces, as Rainbow Six Extraction will launch with 18 operators from R6 Siege.
And while their core design will resemble their R6S counterparts, changes have been made and all operators are balanced around completing co-op missions and fighting against AI aliens, not for PvP combat.
The aforementioned missions are known as "incursions", and they are the core gameplay experience in Rainbow Six Extraction. There will be 13 missions at launch, and they consist of three interconnected sub-levels where players will be tasked to complete three randomly selected objectives up from twelve available at launch.
Each time you start a mission, locations of the objectives and the placement of enemies are procedurally generated, which adds to the replayability of those missions.
What is Rainbow Six Extraction's story?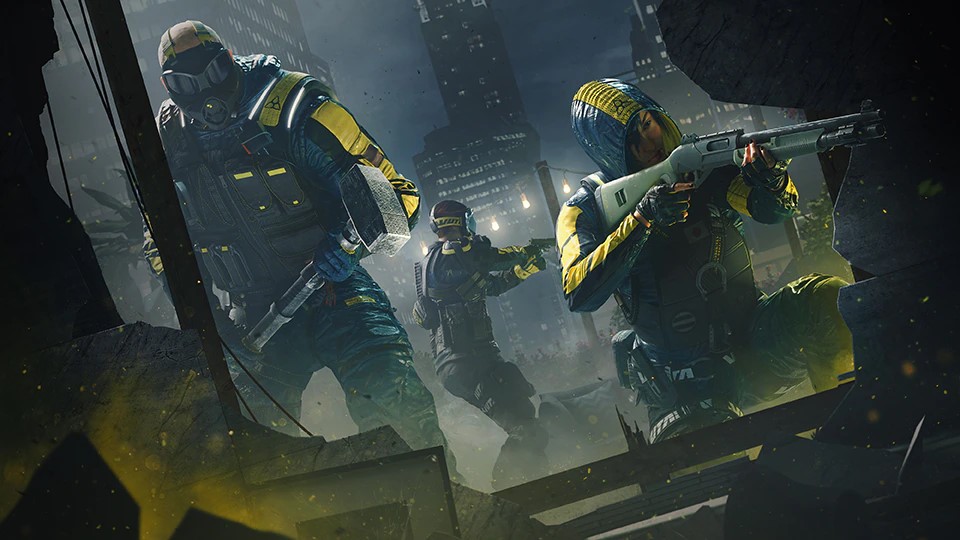 The story revolves around the Chimera parasite, a mysterious alien threat that has caused an outbreak in multiple sites across the US.
This evolving parasite is creating deadly creatures known as the Archæans, and your job will be to fight them and contain their spreading.
In order to do that, the Rainbow Exogenous Analysis & Containment Team (REACT) is formed from R6S operators.
That's the basic premise of the story, and you will uncover more details as you progress through the missions.
Rainbow Six Extraction operators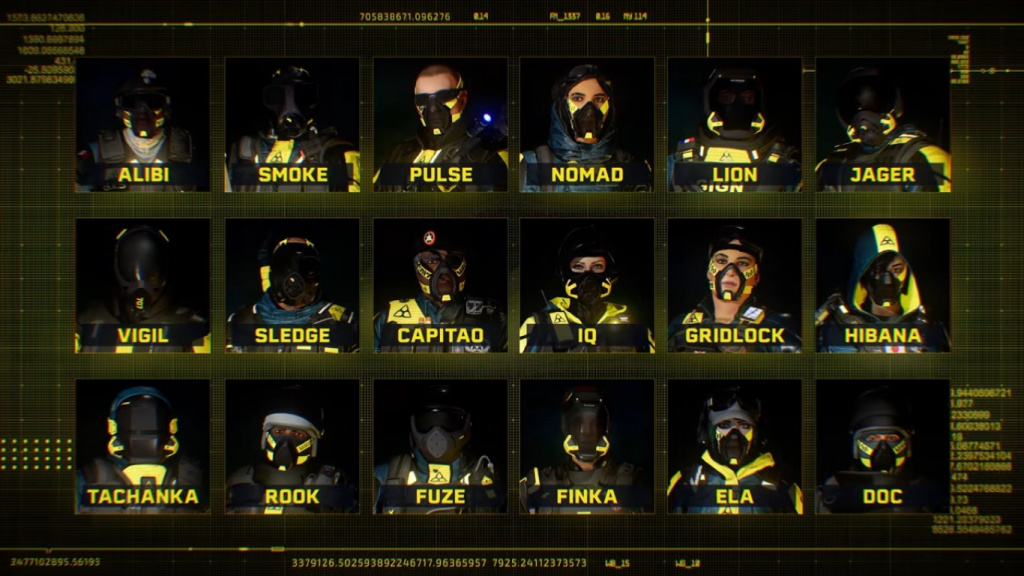 At launch, the game will feature a roster of 18 operators. These are all characters that you know from Rainbow Six Siege but slightly redesigned in order to fit into the co-op gameplay of Rainbow Six Extraction.
Their abilities will be somewhat different, as they are not fighting other operators this time around, rather they are equipped to push back the invaders from outer space.
There are 18 operators in total, and they are:
Albi
Capitao
Doc
Ela
Finka
Fuze
Gridlock
Hibana
IQ
Jager
Lion
Nomad
Pulse
Rook
Smoke
Sledge
Tachanka
Vigil
Players will be allowed to extract themselves after each of the three sub-levels during missions, which will earn them fewer rewards, but it guarantees that all operators will get out alive. If an operator dies during a mission, you must play an extraction mission to save him before being able to play him again.
With each mission completed, your operator will gain experience and level up. That will boost their stats, and grant access to new loadout options and  combat perks "that are specifically designed to take on the parasite in its many different forms."
Is there a local co-op?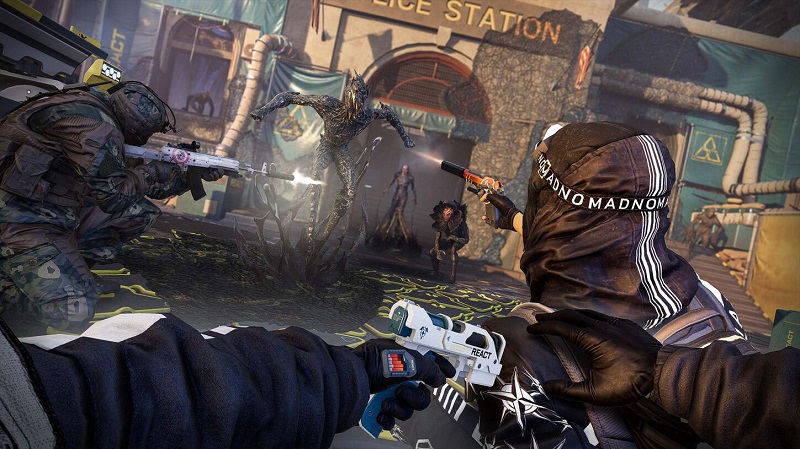 Unfortunately, Rainbow Six Extraction doesn't support local co-op play, meaning that you won't be able to set up split-screen mode and play it on a single console with two other players.
You can still play Rainbow Six Extraction with your friends online in a private lobby.
Is there PvP multiplayer?
There is no PvP multiplayer in Rainbow Six Extraction, the game is designed and balanced around PvP missions for three players, and that's the only way you can play Rainbow Six Extraction.
Crossplay and cross-progression support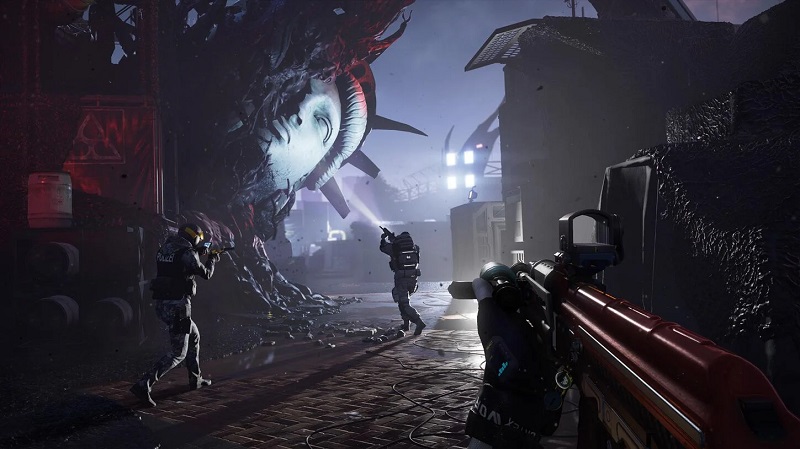 The game is available on Windows (via Unisoft Connect and the Epic Games Store), PlayStation 4, PlayStation 5, Luna, Stadia, Xbox One and Xbox Series X and Series S with cross-platform play and cross-progression fully supported.
Is Rainbow Six Extraction on Game Pass?
Rainbow Six Extraction is available on Day 1 on Xbox Game Pass for Console, Cloud, and PC users.
PC system requirements
If you are planning on playing the game on PC, you should know what kind of gaming rig you need to have in order to run the game with desired settings.
Check out the PC system requirements below:
LOW 1080p:
CPU: Intel i5-4460 // AMD Ryzen 3 1200
GPU: NVIDIA GeForce GTX 960 4GB // AMD RX 560 4GB
RAM: 8GB (Dual-channel setup)
HIGH 1080p:
CPU: Intel i7-4790 // AMD Ryzen 5 1600
GPU: NVIDIA GeForce GTX 1660 6GB // AMD RX 580 8GB
RAM: 16GB (Dual-channel setup)
HIGH 1440p:
CPU: Intel i5-8400 // AMD Ryzen 5 2600X
GPU: NVIDIA GeForce RTX 2060 6GB // AMD RX 5600CT 6GB
RAM: 16GB (Dual-channel setup)
ULTRA 2160p:
CPU: Intel i9-9900K // AMD Ryzen 7 3700X
GPU: NVIDIA GeForce RTX 3080 10GB // AMD RX 6800XT 16GB
RAM: 16GB (Dual-channel setup)
The game requires Windows 10 or 11 (64-bit) to run.
And with that said, that's about all you need to know about Rainbow Six Extraction before start playing it!
Featured image courtesy of Ubisoft.