Twitch streamer Jeremy "DisguisedToast" Wang was recently unbanned on Twitch after only a two-day ban from the platform for watching the anime series Death Note.
Initially, Disguised Toast said that he would return to streaming "in a month," which led many to believe that Twitch was appropriating a brutal crackdown on DMCA claims amid the apocalypse of the controversial TV show meta.
However, upon his return, Disguised Toast revealed that he staged the DMCA strike and Twitch ban with fellow streamer Lilypichu in a prank to scare other creators from watching anime on the Amazon-owned streaming platform. 
Disguised Toast unbanned on Twitch after 2 days
In his post-ban Twitch stream on 13th January, Disguised Toast showed his conversation with Lilypichu, revealing that he had orchestrated the prank to get banned the week prior.
Disguised Toast criticised people's failure to question the unusual length of the suspension. "People really just believe everything they see and hear, don't they," he said.
The Twitch streamer continued, saying that when people heard his ban would last a month, many suspected that it was because he "got multiple strikes on anime," instead of thinking, "oh, that's weird, shouldn't all punishment be handled the same."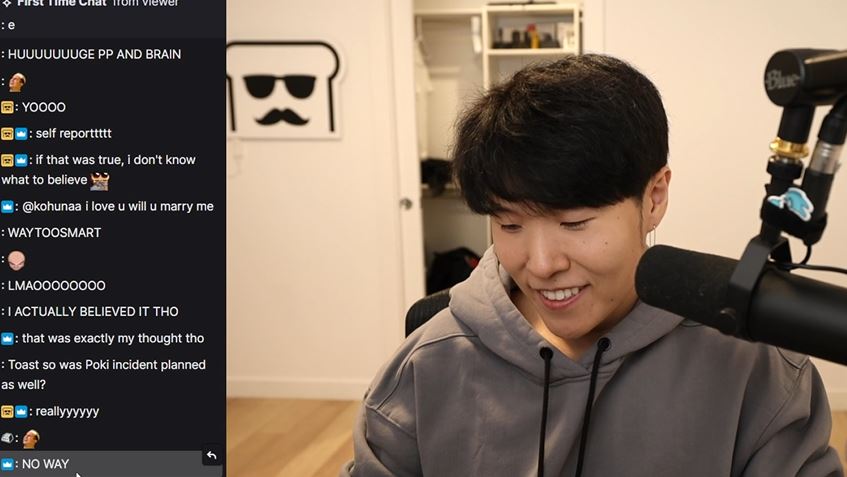 Also, Toast said that he was surprised by how long it took for Twitch to issue a response to the claim. "The DMCA strike was the thing I was expecting. What was unexpected was how long it took to kick in. So now, why did I do this? No reason; I guess I'm just bored," he said before unironically flexing his new apparel.
Later in the stream, Disguised Toast claimed something was broken in the DMCA system. "I don't think I should have gotten away with [streaming] the whole series [...] something is broken here."
While Toast maintains that he didn't enjoy breaking the rules, he firmly believes Twitch needs to look closer at its "broken" DMCA system.
On the bright side, fans can rejoice at the return of their favourite streamer instead of waiting an entire month, as initially anticipated.
Don't forget to check out our dedicated Twitch section for news, streamer antics, drama, and more.
Featured image courtesy of Twitch / Disguised Toast and Madman Entertainment.