It seems as though Twitch is cracking down on DMCA offences after hitting some of its most notable partners with bans for streaming copyright content. More recently, Twitch streamer Jeremy "DisguisedToast" Wang was hit with a lengthy suspension from the Amazon-owned streaming platform after streaming the popular anime series Death Note.
This latest ban comes just weeks after the former Facebook Gaming streamer returned to the platform and signals an end for the notorious "TV show" meta popularised by iconic streamers Felix "xQc" Lengyel, Hasan Abi and Mizkif. Here's what we know about Toast's ban so far.
Toast hit with 1-month Twitch ban amid DMCA crackdown
On 11th January, the StreamerBans Twitter bot reported that Toast received his first ban from the streaming platform. The reason for the ban is presumably for streaming copyrighted content, namely, episodes from the Death Note anime series.
❌ Twitch Partner "DisguisedToast" (@disguisedtoast) has been banned! ❌https://t.co/Gy5jKfOoMN#twitch#ban#firstban#partner#twitchpartner 🏵

— StreamerBans (@StreamerBans) January 11, 2022
Interestingly, the ban only arrived hours after Toast had already streamed at least 25 episodes of the series, which led Toast to tweet, "They really couldn't have waited 20 more minutes," after receiving the ban.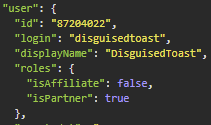 Twitch also appears to be cracking down on DMCA-related offences and slammed the Twitch star with a 1-month ban from the platform. "Welp, [it] looks like I'll be seeing you guy in a month," Toast said on Twitter.
welp, looks like i'll be seeing you guys in a month

— Toast (@DisguisedToast) January 11, 2022
Fellow Twitch star Imane "Pokimane" Anys was also recently hit with her first Twitch ban for streaming the Avatar: The Last Airbender movie; however, her ban only lasted 48 hours.
Therefore, this latest month-long ban confirms the death of the "TV show" meta and demonstrates that Twitch is looking to make an example out of Toast to dissuade other streamers from streaming copyrighted content on its platform.
Don't forget to check out our dedicated Twitch section for news, streamer antics, drama, and more.
Featured image courtesy of Twitch / Disguised Toast and Madman Entertainment.